In 2004 we had some Turkish friends who were working in the tourist areas of Kuşadası and Marmaris and we took a trip through Turkey and some Greek Islands to visit them. On that trip we only stayed one night in Rhodes, so we returned there recently to explore it more.
We took a taxi, two buses and another taxi to stay a night in Marmaris. The following morning we took a ferry to Rhodes and arrived in the old fortified city. After lunch, we checked into our hotel near Kremasti Beach. We stayed 6 nights and enjoyed eating in the local restaurants, walking along the beach and swimming in the hotel pool. We caught up on reading and resting. We took some day trips to explore the city of Rhodes, view fish in the harbor in a submarine boat and visited the Bee Museum.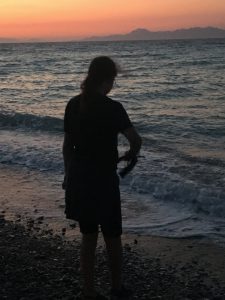 On our return home to Izmir, we took the ferry to Kos, had lunch, did some shopping and explored the historical ruins including a Roman Odeon.
We then took another ferry to Bodrum. After a meal, I returned by bus to Izmir but the rest of the family stayed the night and visited the Bodrum Maritime Museum and returned the following evening.